MYSTICAL EXPERIENCES OF GIANNA TALONE-SULLIVAN WITH OUR LADY
Our Lady of Emmitsburg
Center Of The Immaculate Heart Of Mary
Most sorrowful and immaculate heart of Mary, pray for us!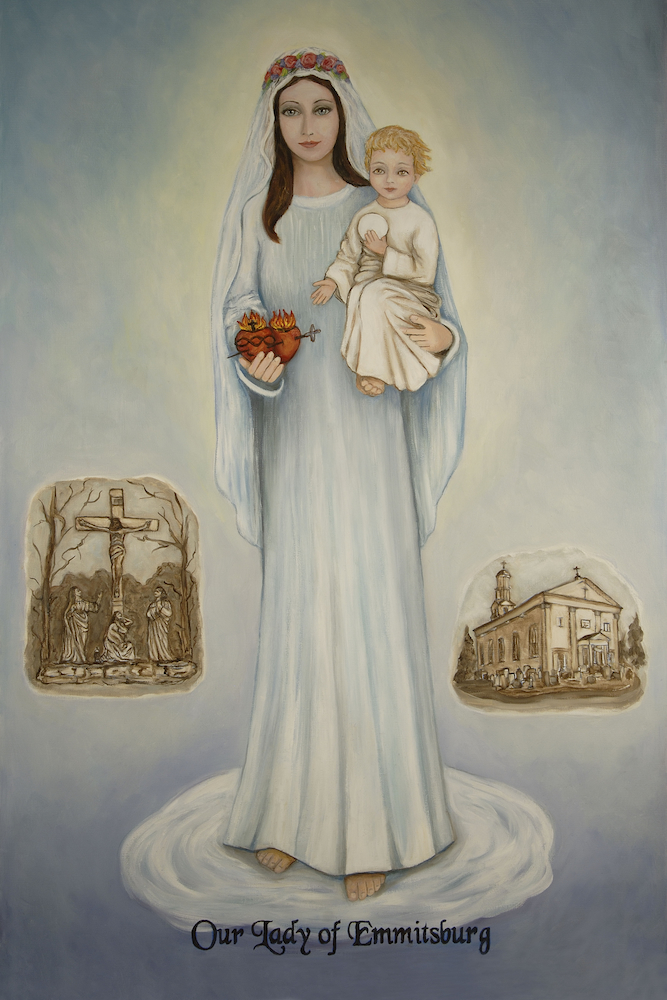 This Website is dedicated to Our Lady of Emmitsburg, and the messages received through the mystical experiences of Gianna Talone-Sullivan since 1991. However, this site focuses on mostly Private Messages and some public messages from 2011.
The purpose of this website is to allow people who desire to contact Gianna Talone-Sullivan for presentations, healing prayers, private talks, tours, to be able to connect with her directly.
Most Recent Messages
By Gianna Talone-Sullivan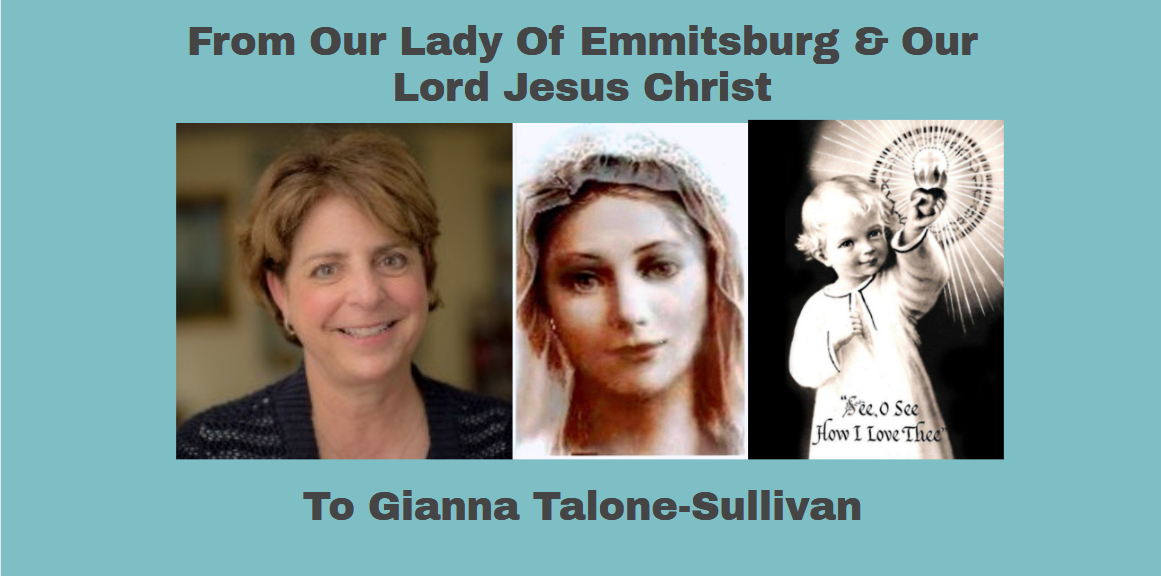 Public Message From Our Lady of Emmitsburg to Gianna Talone-Sullivan May 1 2023
When you reflect on my Son's demeanor during His Passion, you will witness His Holy Silence. The infernal serpent was trying to verify if Jesus was the Son of God, and this was not revealed until my Son surrendered His Spirit.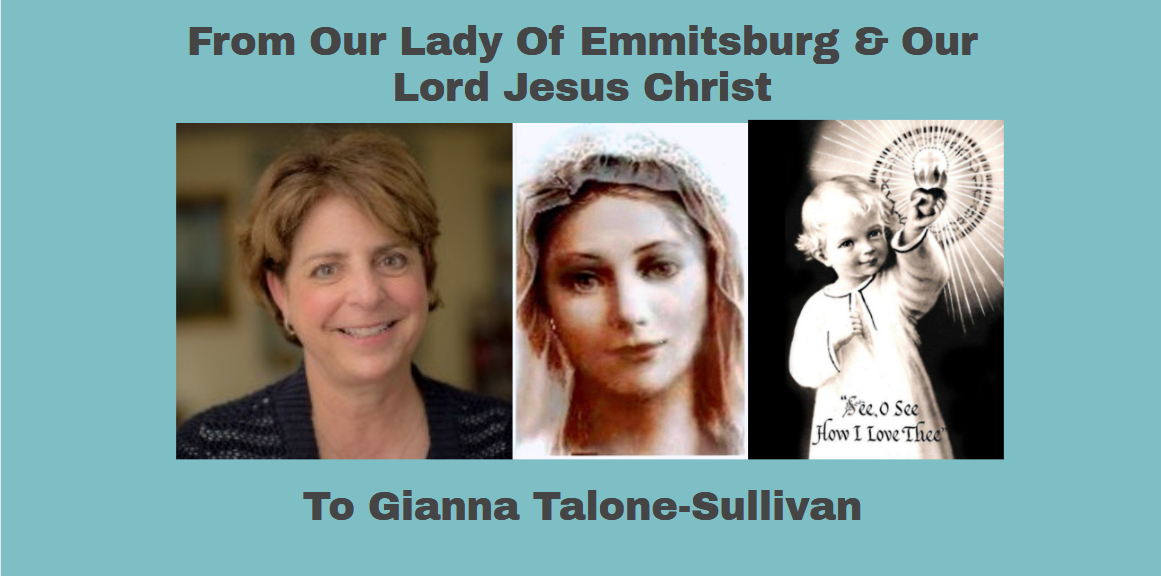 Public Message from Our Lady of Emmitsburg to Gianna Talone Sullivan, April 1, 2023
Praised be Jesus! My dear ones, as you enter into my Son's week of Passion, focus on making reparations for all the outrages and blasphemies and sacrilegious acts against Him. Adore Him.
I Am Your Jesus Of Mercy
Recent Posts
By Kenny Meek
Tuesday Truth in Deep Love.🤗❤️🙏 "You must change and take seriously My messages if peace is to exist. Gentleness is what is needed to meet challenges. It is necessary to meet all challenges with love in order to move ahead valiantly and with courage. Love and...
read more
Message Archives
From Years Ago
By Gianna Talone-Sullivan
1/16/03 (Our Lady appeared to Gianna and said that Jesus was going to begin again His Hidden Life after almost two years since His last entry (1/22/01).)
read more
01/22/01 24. The Painful Truth As I walked into the room today, I heard My mother exclaiming in song, "I love you, O Lord, My strength, My God, My Shield. You have protected us, and kept us safe. Praised be your Name." "Good morning, little one," she said...
read more
01/19/01 23. At School with My Cousins By the time we returned to Israel, I was nearly five years of age. The next morning I was playing with two sticks, squatting low to the ground as if I was a little drummer boy. As My Mother passed by she proclaimed,...
read more
01/03/00 20. Silence My little one, the beauty of Life continues in the silence of each day. The body grows and changes without daily notice, but still is growing silently. During their lifetimes my people fail to recognize also their silent visitation...
read more
01/25/00 22. Our Life in Nazareth Well, little one, it came time for us to leave Egypt. My father waited until the climate was conducive for travel back to Nazareth. We carefully planned our travel and packed our belongings with precision and care. I...
read more
11/22/99 19. My Poverty of Spirit My little one, why do you think I came into the world poor and humble instead of as the glorious, righteous King to be attended by myriads of angels? I was more than poor. I also exemplified the purest spiritual...
read more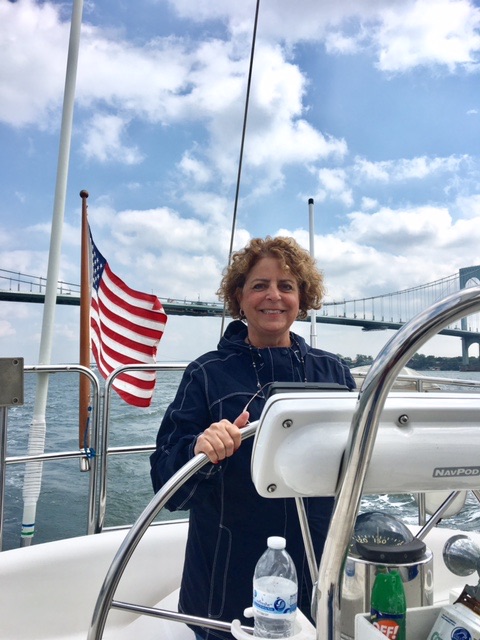 The History Of Gianna
Catholic Mystic
Gianna Talone Sullivan was born, the youngest of three children, on March 12, 1957, in Phoenix, Arizona, to parents of Italian descent. Her early childhood was filled with both love and rejection, material comfort as well as subsequent material need, and an early childhood show business career. She later attended Arizona State University and the University of Southern California, completing her Doctor of Pharmacy degree and then opting to pursue a corporate pharmacy career. By 1987 she was very much caught up in the attractions of the "world", when much to her surprise she was invited to begin a new journey, a journey of fulfilling God's Will in a special role as a messenger to the world for Our Saviour Jesus Christ, Our Blessed Mother, the Child Jesus and God the Father. This journey has been fueled by daily Mass and Holy Communion and prayer, especially the Most Holy Rosary of the Blessed Virgin Mary.
Since those early mystical experiences with Our Lord and Our Lady, Gianna is a clinical pharmacist, and she is the mother to Anne Marie Sullivan. She is the Foundress of the Mission of Mercy mobile healthcare program, the Foundress of the Jesus of Mercy Lay Community, and the United States representative for the worldwide Armata Bianca apostolate, which promotes the Fatima message to the children of the world.
Beginning in July 1988, Gianna received the weekly public MESSAGES to the world from Our Lady, the Blessed Virgin Mary, and lessons from Our Lord Jesus Christ. She has recieved over 3000 messages and 250 lessons. These earlier MESSAGES and all the LESSONS have been recorded in all 6 volumes of I am your Jesus of Mercy through January 21, 1999. These public messages were received during apparitions of Our Lady to Gianna at the weekly public Marian prayer group, first at St. Maria Goretti Catholic Church in Scottsdale, Arizona, and then from November 1993, through September 7, 2000, at St. Joseph's Catholic Church in Emmitsburg, Maryland. It was during this time that Our Lady referred to herself as "Our Lady of Emmitsburg" and entitled the Emmitsburg area as the "Center of my Immaculate Heart." Over 100,000 pilgrims attended the Thursday night prayer group services from over 135 countries.
Following the discontinuation of the weekly Marian prayer group in September 2000, Our Lady of Emmitsburg remained publicly silent for nearly 2 years, although she privately continued to appear and speak with Gianna. Then, on August 5, 2002, Our Lady began again her monthly MESSAGE to the world. Since that time, they have been disseminated to the world via the internet, but not published as of yet in a volume. There are a total of nearly 3000 public MESSAGES from Our Lady of Emmitsburg to the world.
These LESSONS are available through Queenship Publishing Company in Volumes I through VI of the I am your Jesus of Mercy** book series. In addition, all the MESSAGES received since Gianna and her family moved to Emmitsburg, MD, in November 1993, are archived on the CenterOfTheImmaculateHeart.org, and the most recent ones are posted on this website OurLadyOfEmmitsburg.com.
Public Speaking
Gianna has spoken collaboratively at several national and international conferences to speak about the messages of the Blessed Virgin Mary given to the world through her. The main messages are – Return To God, the Child Jesus and the issues of life. Emmitsburg is a refuge for all.
Prayer Requests
Send an email and Gianna will present your petitions to Our Blessed Mother.
Healing
Email your healing request on the contact form and Gianna will pray for you.
What Drives Us
Note From Gianna
My dear friends, if only you knew how beautiful Our Blessed Mother is and the depth and breadth of her love for us! She desires all of us to be happy and safe. She is inviting all to return to God. This website is designed to be an instrument of her love and to be present to all those who seek a deeper intimacy with Jesus.
This has been a time of confusion, anger, fear and for many people filled with anxiety. So, it is my hope you will allow me to pray with you, talk to you about what the Divine is communicating and to help you discern situations and happenings in your life.