MYSTICAL EXPERIENCES OF GIANNA TALONE-SULLIVAN WITH OUR LADY
Our Lady of Emmitsburg
Center Of The Immaculate Heart Of Mary
Most sorrowful and immaculate heart of Mary, pray for us!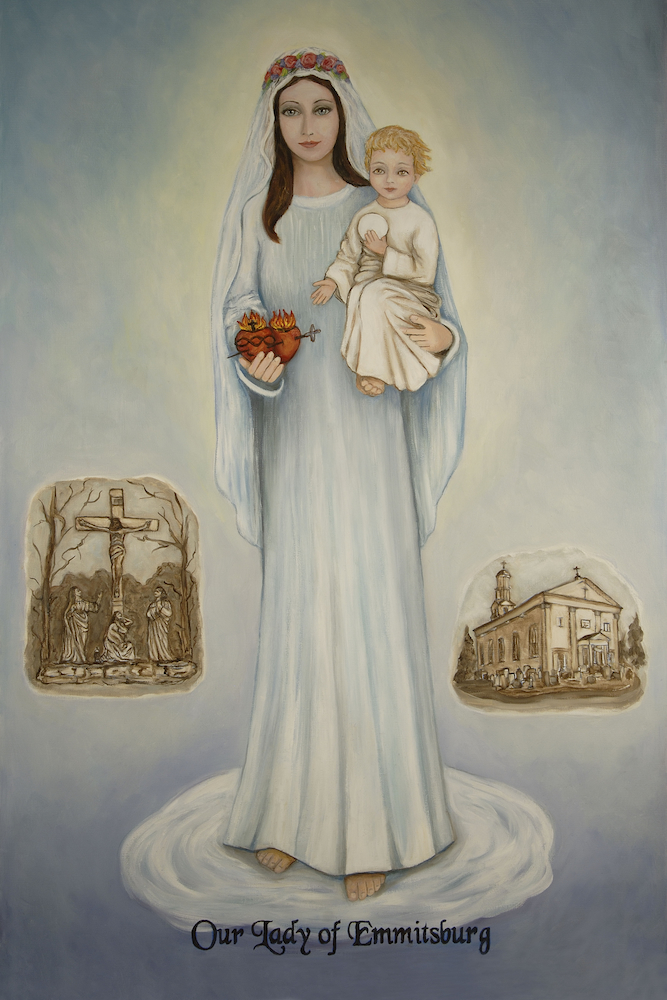 This Website is dedicated to Our Lady of Emmitsburg, and the messages received through the mystical experiences of Gianna Talone-Sullivan since 1991. However, this site focuses on mostly Private Messages and some public messages from 2011.
The purpose of this website is to allow people who desire to contact Gianna Talone-Sullivan for presentations, healing prayers, private talks, tours, private spiritual phone call sessions to be able to connect with her directly.
Most Recent Messages
By Gianna Talone-Sullivan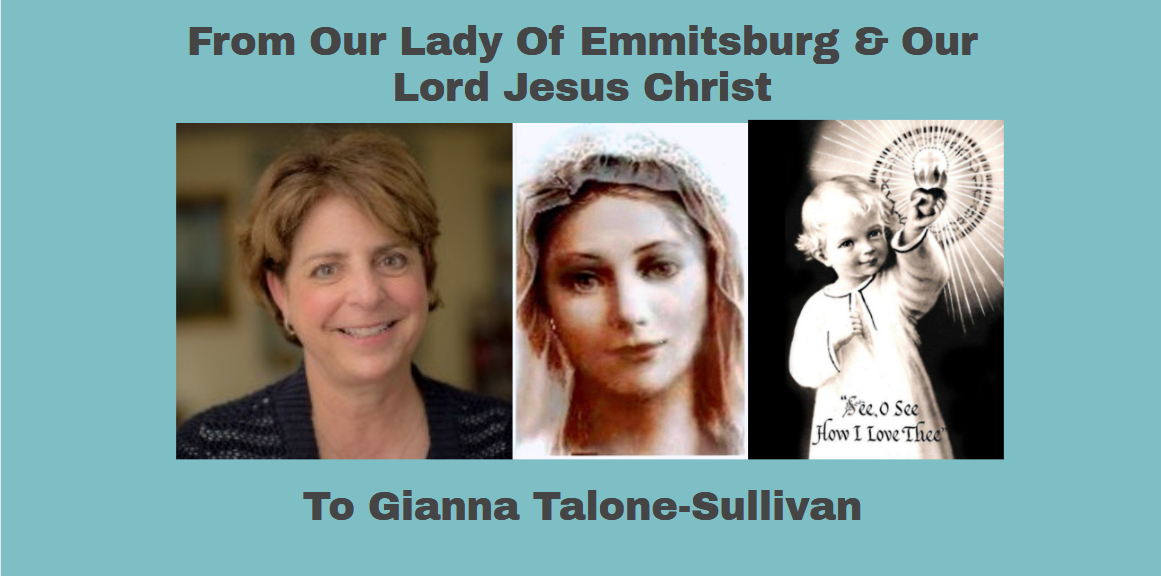 Public Message from Our Lady of Emmitsburg to Gianna Talone-Sullivan, January 1, 2023
As we commence a new year,  allow me to give you words of guidance to help you grow in perfection.
Be docile. Do not allow interior resistance to enter and cause distractions.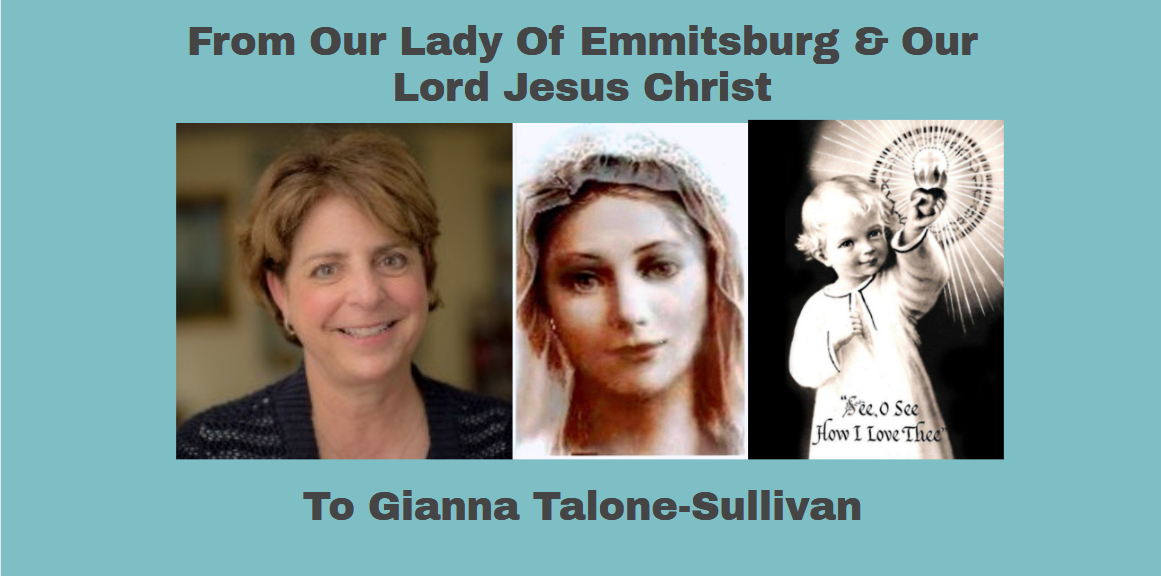 Public Message from Our Lady of Emmitsburg To Gianna Talone-Sullivan February 2, 2023 The Presentation of the Lord
Even with your free will, my duty as the Mother of God is to protect, and transform all my children to live the Truth  and to be Holy children of God. My responsibility is for your sanctification, and it is your duty to trust in my  intercession.
I Am Your Jesus Of Mercy
Recent Posts
By Kenny Meek
"Be careful and notice how often in a given day you may be filled with judgmental opinions and emotions. Realize how often you are quick to form a verdict on someone's actions, words or general behavior, and thus feel that you are self-righteous. Put a stop to active,...
read more
Message Archives
From Years Ago
By Gianna Talone-Sullivan
10/19/99 16. My Childhood Fear I started, little joy of My Heart, to awaken in the night full of fear. Night after night I would scream for My mother, "Mommy, will you rock me?" I would clench on to her loving arms out of fear and would not let go without...
read more
9/15/99 14. Our Daily Life Little one, now let us continue on with My Life's journey. After My father was told he could return back to Nazareth, he praised the Father along with My mother. We did not immediately leave. My father had established...
read more
10/11/99 15. More on Our Daily Life "Daddy, you wanna play rocks with us?", I asked as I ran to him with my arms extended. Then my father picked me up, gave me a warm, strong, loving embrace and responded with a smile, "Well it seems you have had quite a full...
read more
11/8/99 18. My Mother My little one, before we continue on with My first lesson taught to Me by My mother, I want to talk about her daily life. She lived a very ordinary life, and she did not make an impression, in the eyes of the people in Egypt or Nazareth, of...
read more
7/13/99 13. Our Return to Nazareth We stayed in Egypt until My Heavenly Father revealed to My earthly father that it was time and safe to return to our homeland. One night as My father was sleeping, an angel came to him and said, "Joseph, wake up. Do not be...
read more
6/29/99 12. More on Our Life in Egypt Elam was very kind in helping our Holy Family become situated in that far away land. He was a robust man with a face which spoke a tale of his life. He had a beard and gentle, soft, deep-set eyes. He was a man...
read more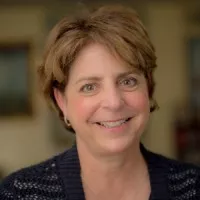 The History Of Gianna
Catholic Mystic
Gianna Talone Sullivan was born, the youngest of three children, on March 12, 1957, in Phoenix, Arizona, to parents of Italian descent. Her early childhood was filled with both love and rejection, material comfort as well as subsequent material need, and an early childhood show business career. She later attended Arizona State University and the University of Southern California, completing her Doctor of Pharmacy degree and then opting to pursue a corporate pharmacy career. By 1987 she was very much caught up in the attractions of the "world", when much to her surprise she was invited to begin a new journey, a journey of fulfilling God's Will in a special role as a messenger to the world for Our Lord, Our Lady, and most recently, God the Father. This journey has been fueled by daily Mass and Holy Communion and prayer, especially the Most Holy Rosary of the Blessed Virgin Mary.
Since those early mystical experiences with Our Lord and Our Lady, Gianna continues to practice a clinical pharmacist. She is a mother to Anne Marie Sullivan and a stepmother to Chelsea Sullivan. She is the Foundress of the Mission of Mercy mobile healthcare program, the Foundress of the Jesus of Mercy Lay Community, and the United States representative for the worldwide Armata Bianca apostolate, which promotes the Fatima message to the children of the world.
Since beginning in July 1988, Gianna has received the weekly public MESSAGES to the world from Our Lady, the Blessed Virgin Mary; and these MESSAGES have been recorded in all 6 volumes of I am your Jesus of Mercy through January 21, 1999. These public messages were received during apparitions of Our Lady to Gianna at the weekly public Marian prayer group, first at St. Maria Goretti Catholic Church in Scottsdale, Arizona, and then from November 1993, through September 7, 2000, at St. Joseph's Catholic Church in Emmitsburg, Maryland. It was during this time that Our Lady referred to herself as "Our Lady of Emmitsburg" and entitled the Emmitsburg area as the "Center of my Immaculate Heart."
Following the discontinuation of the weekly Marian prayer group in September 2000, Our Lady of Emmitsburg remained publicly silent for nearly 2 years, although she privately continued to appear and speak with Gianna. Then, on August 5, 2002, Our Lady began again her monthly MESSAGE to the world. Since that time, they have been disseminated to the world via the internet, but not published as of yet in a volume. There are a total of nearly 400 public MESSAGES from Our Lady of Emmitsburg to the world.
These MESSAGES are available through Queenship Publishing Company in Volumes I through VI of the I am your Jesus of Mercy** book series. In addition, all the MESSAGES received since Gianna and her family moved to Emmitsburg, MD, in November 1993, are archived on this website, and the most recent 3 posted.
Public Speaking
Gianna has spoken collaboratively at several national and international conferences to speak about the messages of the Blessed Virgin Mary given to the world through her. The main messages are – Return To God, the Child Jesus and the issues of life. Emmitsburg is a refuge for all.
Prayer Requests
Send an email and Gianna will present your petitions to Our Blessed Mother.
Healing
Email your healing request on the contact form and Gianna will pray for you.
What Drives Us
Note From Gianna
My dear friends, if only you knew how beautiful Our Blessed Mother is and the depth and breadth of her love for us! She desires all of us to be happy and safe. She is inviting all to return to God. This website is designed to be an instrument of her love and to be present to all those who seek a deeper intimacy with Jesus.
This has been a time of confusion, anger, fear and for many people filled with anxiety. So, it is my hope you will allow me to pray with you, talk to you about what the Divine is communicating and to help you discern situations and happenings in your life.